---
Vol 02
COMMUNITY COOKBOOK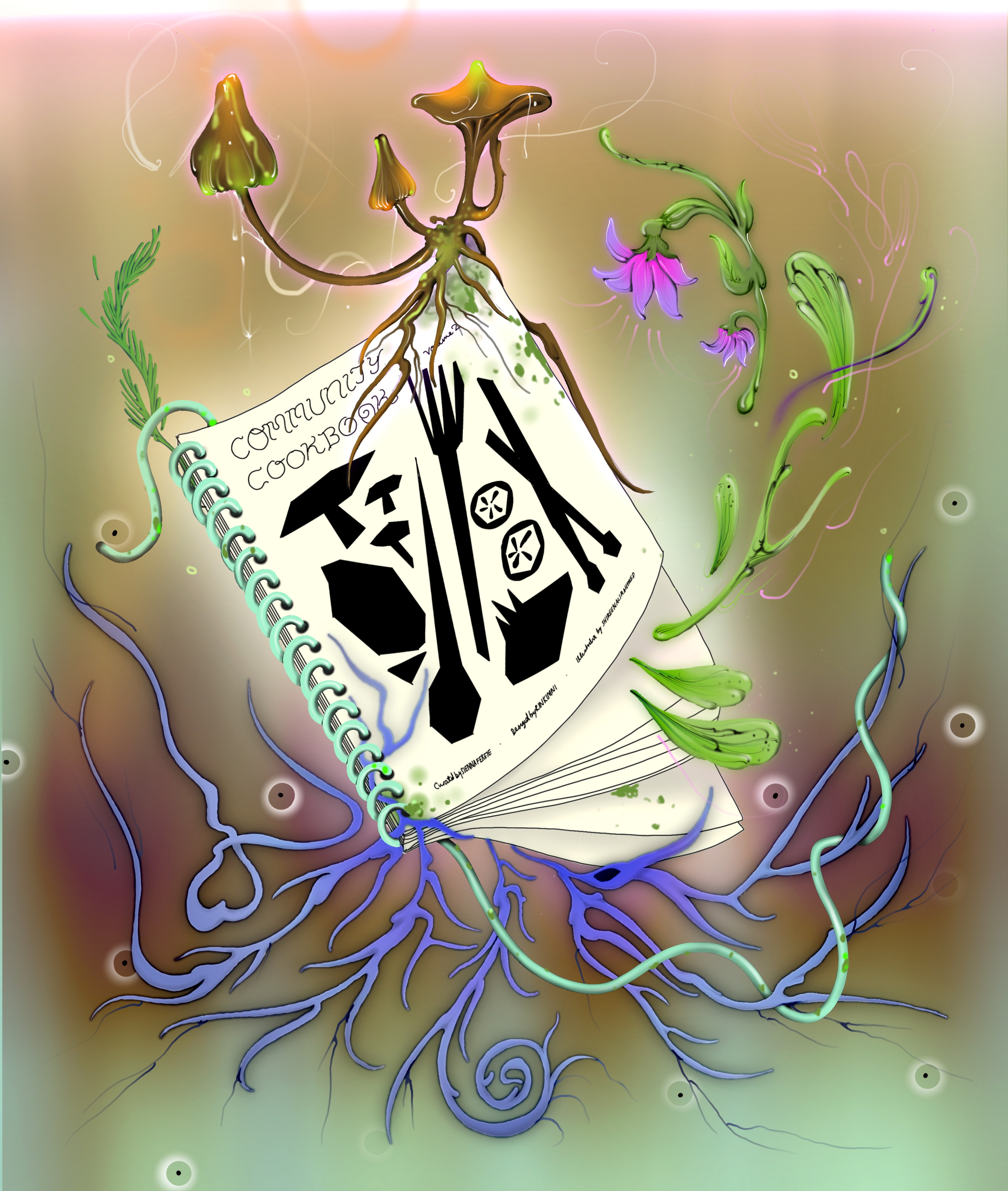 Community Cookbook
Volume 2 (Digital)

Community Cookbook
Volume 1 (Digital)
This community cookbook was conceptualized as a way to bring together cherished recipes and the memories, traditions, and family legacies we carry with them. This project seeks to make folks feel a little more connected to one another, by way of our kitchens. Inspired by the history of community cookbooks as a tool for information and skill sharing, I know food to be a great unifier. I grew up with an immense love for food, discovering new tastes, textures, and its creative possibility—without an extensive knowledge of the practice of cooking nor a way around the kitchen. This is my way of learning and exploring food together with my community and creating a resource that hopefully will inspire us to learn from each other and try out some new things. This cookbook was created by and for my community. Thank you for bringing this project to life!
100% of Physical Copy Cookbook proceeds will be donated to Kia Feeds the People Program, Auxilio, and Playground Youth, minus the cost of printing, shipping, and putting these special cookbooks together for you all.
PHYSICAL COPY COOKBOOK PRE-ORDERS ARE CLOSED
WE WILL HAVE A SELECT FEW AVAILABLE FOR PURCHASE ON HAND IN NEW YORK STAY TUNED!

Dedicated to my twelve-year-old self, a novice yet ambitious food-lover and
all the folks who showed me the power of good food <3
Illustrations by Steph Lau
Including recipes from:
---

Jazzy Romero Ceviche de Coliflor

Meriem Bennani Zaalouk (Moroccan Eggplant Caviar)

Shannon Lee Spring Mugwort Miso Soup

Sammi Gay Fermented Strawberry Milkweed Vinegar (aka Summer in a Bottle)

Lynette Nylander A British Classic Victoria Sponge Cake

Maia Ruth Lee Maia's Vegan Red Lentils

Nicola Awang Granny's Callallo (Trini Style)

Niki Franco Pargo Dominguero A Lo Boricua (aka Sunday Snapper Puerto Rican Style)

Lukaza Branfman-Verissimo Vovo Sebete's Collard Greens (Couve)

Keenan MacWilliam Lentil Salad, Not Like Other Salads

Lizette Ayala Pan con Pollo

Annika Hansteen-Izora Vegan Avocado Lime Sauce

Ivy-Young Scott & Ethan Scott Barnett Chinese-Jamaican Rice and Peas

Mekdela Maskal Aster's Misir

June Canedo Pão de Queijo da Minha Mãe

& more!

If you'd like to contribute monetarily to the fruition of the Community Cookbook, see below:
Info:


---

Printing with TXTbooks
Risograph
Handbound mint spirals
Handmade with love by: Sienna Fekete, Shireen Alia Ahmed, Rin Kim Ni and the team at TXTbooks NYC

---
About Pre-order:

Once we close pre-order we will hand make everyone's book with care. Because of the nature of creating each of these books by hand during a pandemic, it could be 1-3 months before you receive your copy in the mail. Thank you for understanding and supporting this project and our saftey!
---

Curated by Sienna Fekete, Designed by Rin Kim Ni, Recipe Illustrations by Shireen Alia Ahmed, Web Illustrations & Cover Art by Steph Lau