---
Vol 03
COMMUNITY COOKBOOK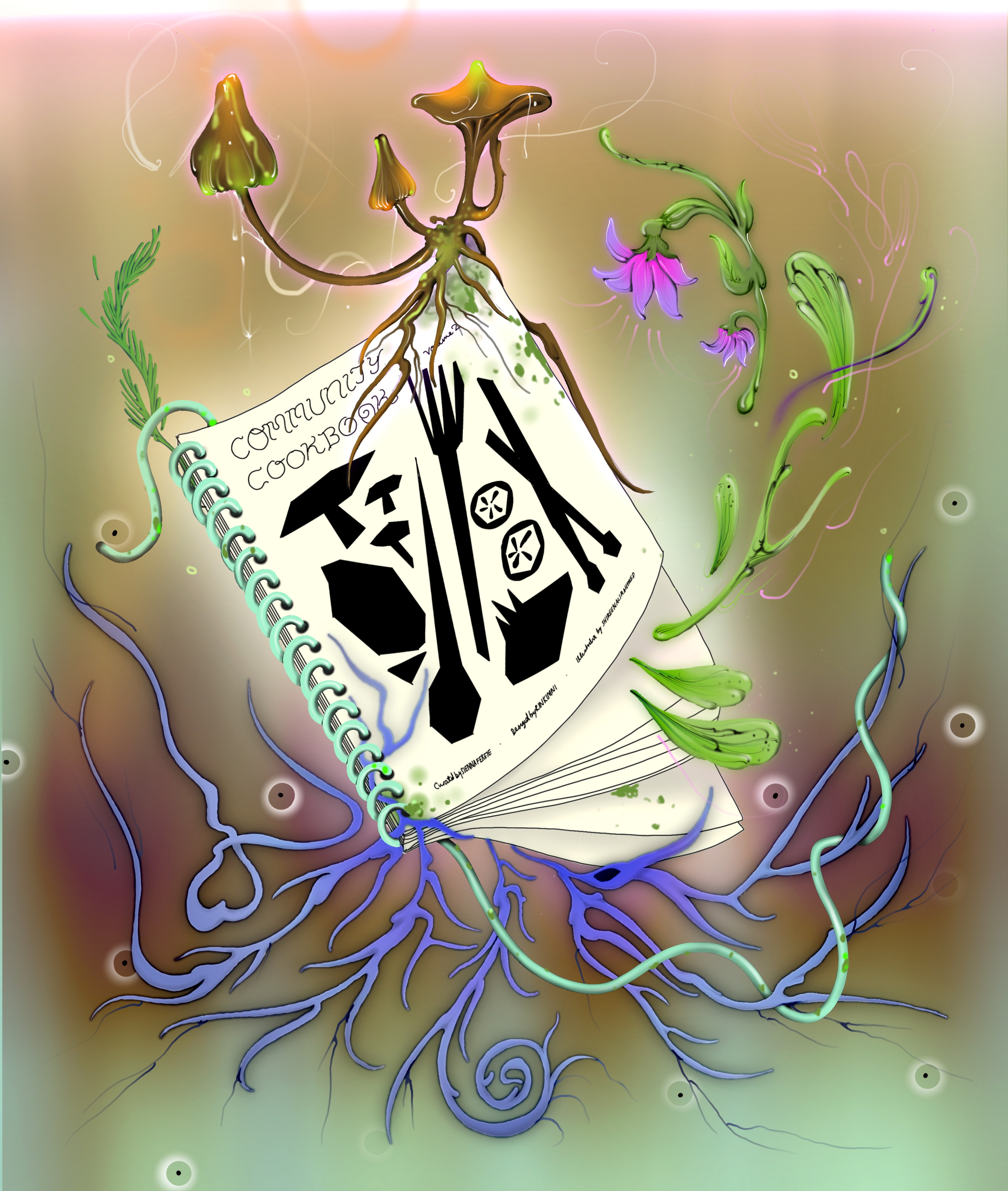 ---
---
This community cookbook was conceptualized as a way to bring together cherished recipes and the memories,
traditions, and family legacies we carry with them. This project seeks to make folks feel a little more connected
to one another, by way of our kitchens.
Inspired by the history of community cookbooks as a tool for information and skill sharing, I know food to be a great
unifier. I grew up with an immense love for food, discovering new tastes, textures, and its creative possibility—without an
extensive knowledge of the practice of cooking nor a way around the kitchen.
This is my way of learning and exploring food together with my community and creating a resource that hopefully will
inspire us to learn from each other and try out some new things. This cookbook was created by and for my community.
Thank you for bringing this project to life!
---
Dedicated to my twelve-year-old self, a novice yet ambitious food-lover and
all the folks who showed me the power of good food <3
Illustrations by Steph Lau
Including recipes from:
---

| Shabbat Tea Eggs – Tokhmeh-morgh Shabbat-ti by Michelle Shofet and Larissa Belcic of Nocturnal Medicine |

| Morir Soñando Drink By Leah Romero | Cimi di Rapa Con Capunti by Romina Cenisio |

| Mommy's Macaroni Gratinée / Haitian Style Mac & Cheese by Ashley Samson & Sebastien Samson |

| Commie Jerk Anything by Sojourner Ramsay-Taylor | Puliyodharai சிதரனா by Jay Chary |

| Spiked Iced Tea for a Summer Birthday AKA Toby's Tea <3 by Candice Saint Williams |

| Cotija Caeser by Melissa Saenz Gordon | Miso-Matcha Neapolitan Cookies by Octavia M. Bürgel |

| Pear Cake by Ruth Gebreyesus | Hazue Rose Kimura's Inarizushi (Inari sushi) by Lauren Kimuura |

| Sundal by Sunny Iyer | Mimi's Goulash by Evan Hunter McKnight | Enid's Flying Fish Cutter by Jenna Fletcher |

| Bubie Moon's Ambrosia Salad by Lauren Eisen |

& more!

If you'd like to contribute monetarily to the fruition of the
Community Cookbook, see below:
---
About Pre-order:

Pre-orders will be processed and printed within roughly a month-long timeline. We appreciate
your patience and will plan to send out shipping/tracking updates as they come. We will also stock
a limited number of cookbooks in local bookstores and shops in New York and Toronto for purchase.

Thank you for understanding and supporting this project!

---

Creation Credits:

| Volume 3 |
Curated by Sienna Fekete in collaboration with Brooke Gangbar and Brigid Savage of Wishbones TO.
Designed by Rin Kim Ni. Recipe Illustrations by Mica White.

| Volumes 1 & 2 |
Curated by Sienna Fekete. Designed by Rin Kim Ni. Recipe Illustrations by
Kaur Alia Ahmed. Web Illustrations & Cover Art by Steph Lau.